THIS SHOP HAS BEEN COMPENSATED BY COLLECTIVE BIAS, INC. AND ITS ADVERTISER. ALL OPINIONS ARE MINE ALONE. #MERRYSPRITZMAS #COLLECTIVEBIAS
---
Okay, ladies. It's time to get down and dirty and talk some real sh*t. When your friends come over this holiday season, they're going to make a visit (or two) to your bathroom. It's inevitable! So in preparation for the most wonderful time of the year, here's a super-cute DIY toilet topper for all your guests' needs. 😉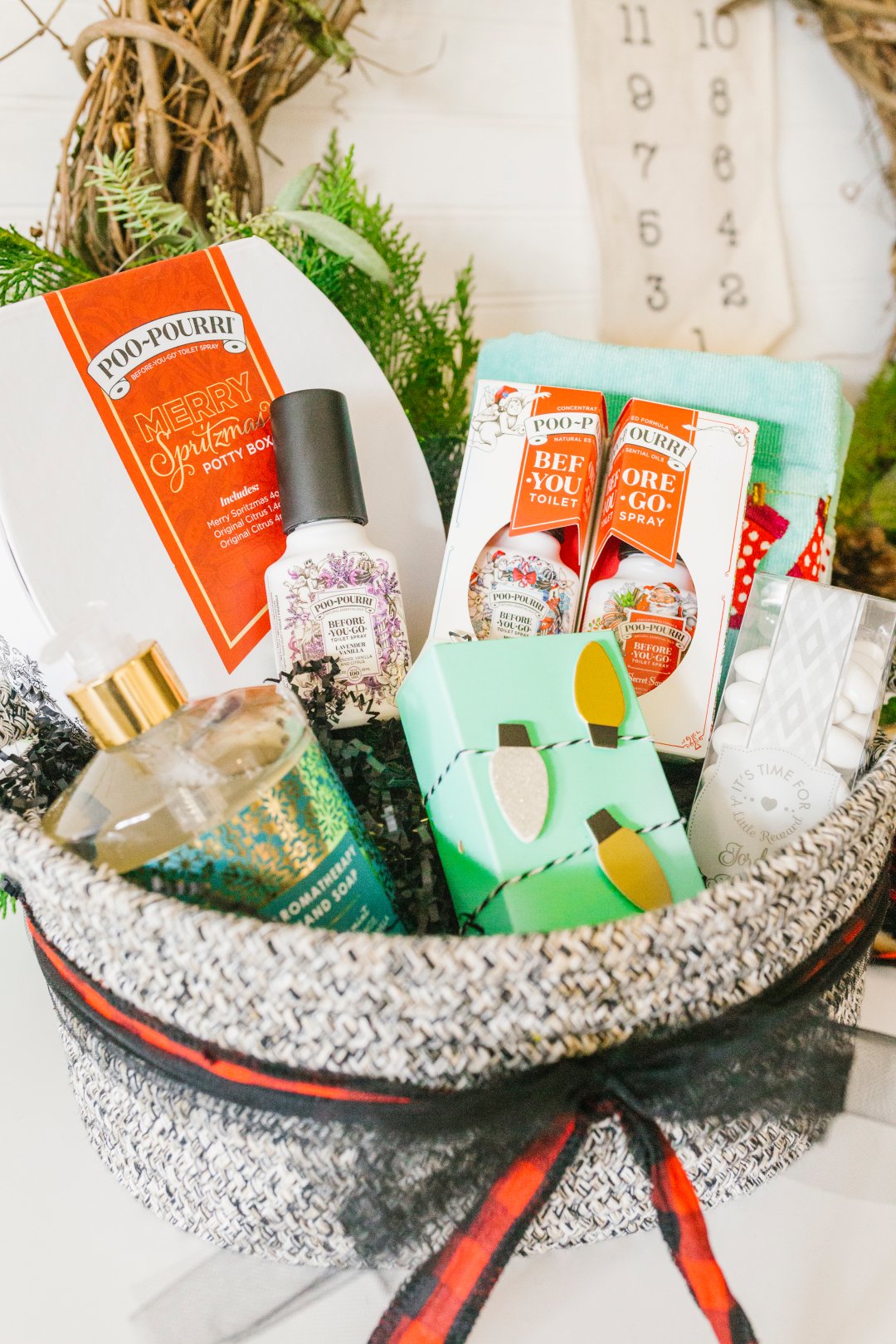 Before creating your toilet topper, click on the above image to shop for your own bottles of Poo~Pourri. Don't forget to check for a coupon from Bed Bath & Beyond before shopping *hint hint* and there's always free shipping on orders over $19.95!
How I Made My Toilet Topper Basket:
First, find a basket that fits the vibe of your bathroom and will fit on top of your toilet. I chose a woven black and white one with gold trim – perfect for Christmas! Fill it with some crinklies (I actually have no idea what those are called…) for some volume. If needed, put different items under the crinkles to add different heights. For example, I stuck an unused candle lid under mine so that the things in the back could still be seen by my guests. Easy enough, right?
Next, fill it with the absolute essentials. Whenever I'm expecting guests, I make sure I'm fully stocked with Poo~Pourri. It's a total lifesaver, and during the holidays they have the best scents to mask any surprise presents under the tree, if ya know what I mean. When your guests have to go number 2, they simply spray the spritz before they go and ta-da! The all-natural essential oils create a thin film on the surface of the water, leaving the porcelain sleigh smelling better than ever.
Then add some other bathroom necessities. A festive hand soap, holiday hand towels, and my favorite – Jordan almonds. Yum!! Your guests are going to want to spend the whole evening in your bathroom. Finally, tie a festive bow around the basket to really tie the whole theme together.
My must-haves are the original Lavender Vanilla and this adorable Holiday Gift Set! Lavender Vanilla is a comforting blend of lavender, vanilla and citrus natural essential oils. This gift scent includes two holiday scents, Merry Spritzmas® and Secret Santa. Merry Spritzmas® is a blend of peppermint, vanilla and citrus and Secret Santa is a blend of cinnamon, vanilla and citrus.
If you're in need of a stocking stuffer or a funny secret santa gift, look no further! Poo~Pourri is the perfect silly present. This toilet topper isn't the only way to gift Poo~Pourri this season. Check out all of the other great ideas influencers have had too for a little inspiration!
A #MerrySpritzmas to all and to all a good poo 😉